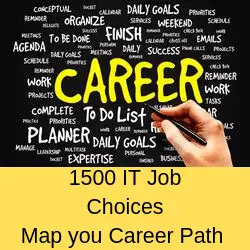 The top 60,000 keywords phrases from Seek, Upwork, Freelancer, Indeed, Indeed UK and Zip Recruiter were reviewed.
IT Jobs titles were extracted. The data was combined and duplicates removed. 1500+ Unique IT Job titles remained. See below.
More job choices. More job opportunities. Gain your next role faster.

Information Communication Technology (ICT) jobs can be fould in almost all industries and globally.
Insights: Look for your IT jobs synonyms. Many roles can be performed from anywhere with an Internet connection.
Instructions: Check each roles that suits you. Scroll to the bottom and click Get IT Job Results. Copy out results.
Copy out your Career choices. See below for links to job listings.